Most dumpster rental companies will have six different dumpster sizes - 10 yard, 12 yard, 15 yard, 20 yard, 30 yard and 40 yard. A yard is a cubic yard, which defines how much debris each dumpster holds. Each size has its own weight allowance (often called weight limit), with a larger dumpster having the ability to hold more weight.
In this article, we will give you details on the most common dumpster sizes, and we will go over the most common weight allowances for each size with information on the types of debris typically used for each size. Note: weight limits vary depending on the service area. See your specific service area for exact details.
Who Needs A Roll Off Dumpster?
Roll off dumpsters are the perfect way to get rid of almost anything. Whether it's residential junk, residential remodeling jobs, or construction debris removal, a roll off dumpster service can handle it all.
At Trash Daddy, we are the best of the best of roll off dumpster rental companies. We offer a variety of dumpster sizes to fit your clean up project. We almost always offer next day delivery. More homeowners every day are realizing how easy, convenient and affordable dumpster rental is to get rid of all that old junk laying around the house, garage or yard.
See our FAQ page for the most common questions regarding dumpster rental and for a short video with some dumpster rental guidelines.
Homeowners
Moving - house clean outs or spring cleaning
Residential remodeling, kitchen remodel
Landscaping or other outdoor projects
Tennant old household junk removal
Basement or garage cleanout
Contractors
Large scale commercial or residential remodeling jobs
Commercial or residential roofing projects
Coordinated swaps with multiple dumpsters
Other commercial waste removal services
Common Dumpster Rental Sizes
10 Yard Dumpster - 1 ton weight allowance
A 10 yard dumpster size is the smallest typically available, and its for smaller projects. It holds 10 cubic yards. It's popular with homeowners due to its small dimensions, but the weight allowance is low. It is affordable if you are careful not to over-fill it, or fill it with heavy material. Often people use this size to discard small things - cleaning out a small room, a few pieces of old furniture, maybe a mattress or two, or maybe some yard waste like bags of leaves and small tree branches.
12 Yard Dumpster - 1.2 ton weight allowance
The 12 yard dumpster size is fairly popular, with a slightly higher weight allowance while keeping similar small dimensions. This size dumpster holds 12 cubic yards and is also for smaller projects like small room clean outs or small remodel projects. Some companies do offer this size for very heavy jobs, sometimes called a "12 yard heavy", offering a 5 ton weight allowance. If this is offered, they are special dumpsters used almost exclusively for very heavy items like dirt, concrete, rock or sod. This is also a great size for small cleanup projects like a basement or garage cleanout.
15 Yard Dumpster - 1.5 ton weight allowance
A 15 yard dumpster size is also good for small jobs, but allows for more and/or larger debris. It holds 15 cubic yards. This container size is not as readily available as other sizes, but it can be a good option for homeowners when available. This can take small items like a 10 yard, but also could take some larger items like light landscaping debris, roofing shingles, and small remodel projects.
20 Yard Dumpster - 2 ton weight allowance
The 20 yard roll off dumpster size is the most popular choices for dumpster rentals. It's affordable, not as tall, and still able to fit in most driveways. Holding 20 cubic yards, it can carry heavier loads, making it a popular choice for landscaping and other contractors. This is a good choice for residential remodel jobs, landscaping clean up, larger tree branches, and more.
30 Yard Dumpster - 3 ton weight allowance
The 30 yard dumpster size is also one of the more popularly rented. It holds 30 cubic yards and is good for more heavy debris removal. There are typically more of this size in circulation, making them easy to rent. They are also usually a very good value, because the weight limit makes it easier to not over-fill, keeping your cost down. People put just about anything in this size - from residential remodel jobs, a kitchen remodel job, shingles and roofing debris, estate cleanout, home cleanouts, demolition debris, and more.
40 Yard Dumpster - 4 ton weight allowance
The 40 yard dumpster size is commonly used by contractors for large jobs. This size dumpster is also not as readily available because it's used more often for special circumstances like large clean up projects, demolition work, construction debris, or other commercial jobs. It holds 40 cubic yards of debris.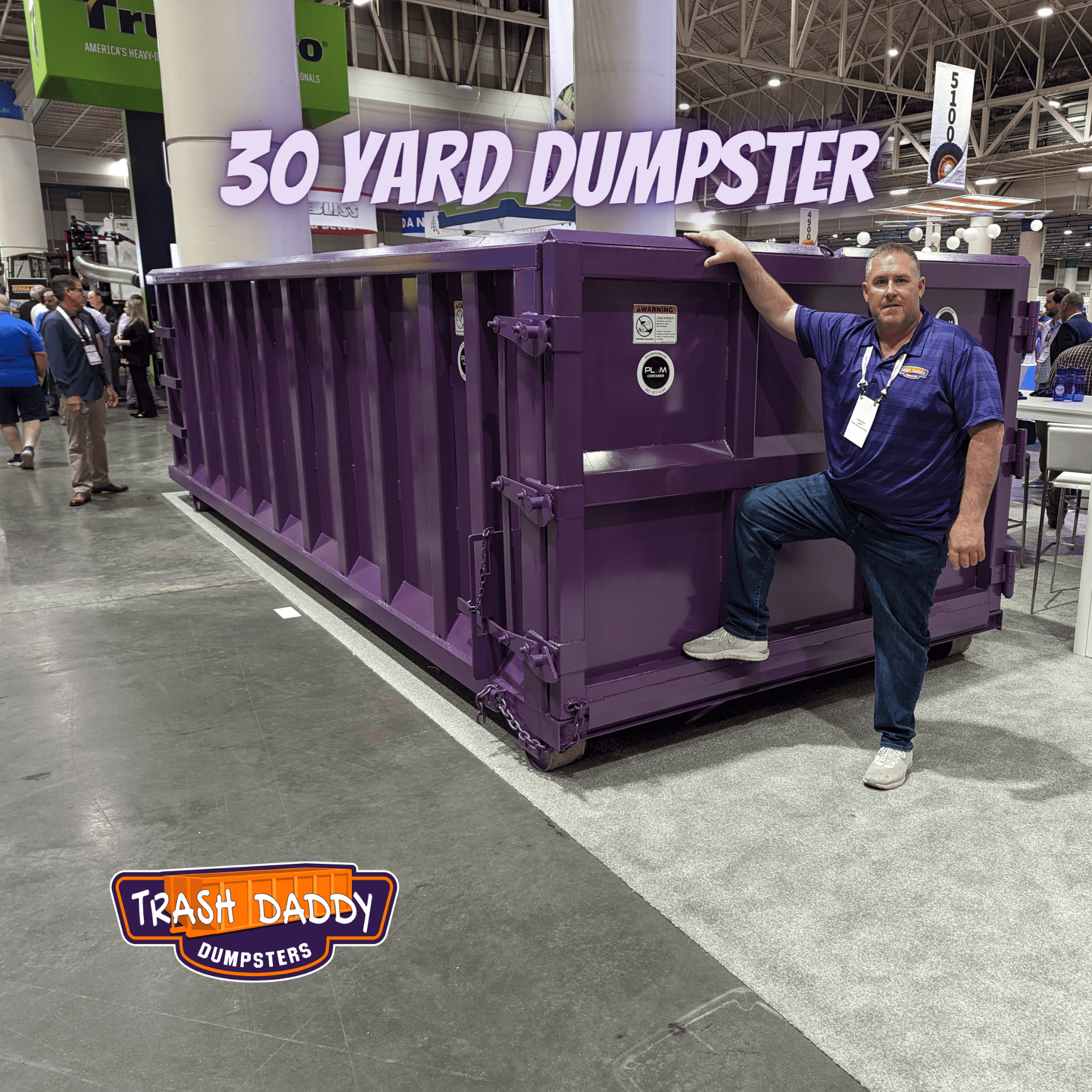 CONCLUSION
Roll off dumpsters typically come in 6 different sizes (10, 12, 15, 20, 30, 40 yard). It's a good idea to talk to a dumpster rental expert before you rent a dumpster to try to estimate the weight so you can be assured of getting the best possible price. At Trash Daddy Dumpsters, we help our customers get the right size dumpster for their job at the best price.